Creekside Lodge - 4 Bedroom Cabin - Smoky Mountain Ridge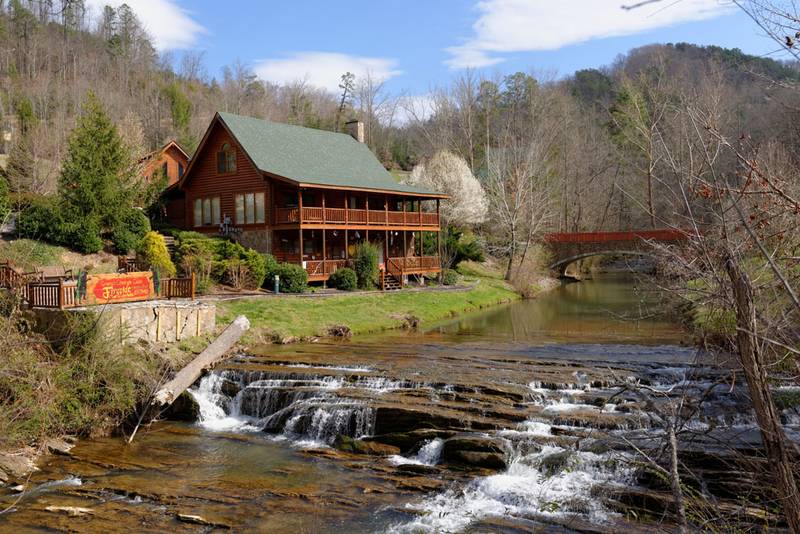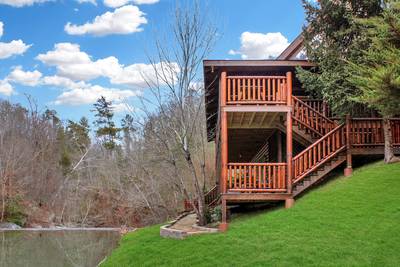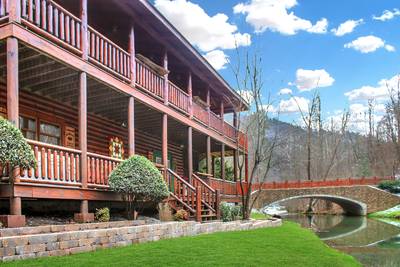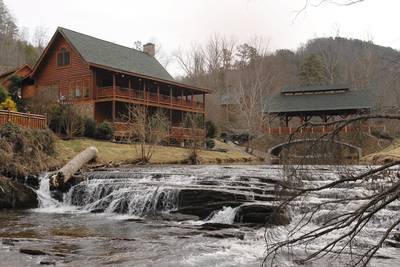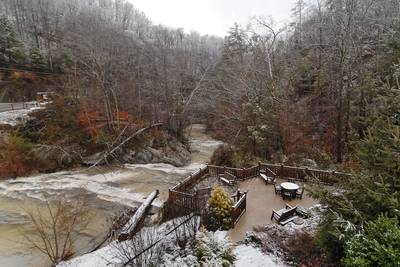 Reserved
Value
Regular
Peak
Holiday
Welcome to Creekside Lodge! This spacious cabin is located right at the water's edge of a mountain creek, and there are literally water falls in the backyard! This cabin has two spacious decks which 2 are covered. The upper deck wraps around the cabin and has beautiful wood carvings around every corner. The upper deck also offers a large gas grill and plenty of seating that overlooks the waterfalls. The lower deck expands across the back of the cabin, and it provides a hot tub, barrel seating area and a path to access the creek to do some fishing or wading! Creekside Lodge is a 4 bedroom and 4 bathrooms with extra seating and gaming area.

Creekside Lodge is beautifully decorated from floor to ceiling. The main floor offers a fully equipped kitchen with a dining area offering seating for 8-10. The living room offers a 65-inch Flat Screen TV and a blue ray player. The main level bathroom offers a one-step shower, sink, and toilet area. The master suite offers a kind size bed with a ceiling fan directly above it. There are wrap around windows from floor to ceiling that offers views and sounds of the waterfalls. The master bath offers a large changing area with private toilet, shower, and sink. This cabin is wheelchair friendly on the main level.

The main floor living room offers two sofas centered around the river stone fireplace and television. As you ascend the stairs to the upper level, you can enjoy a view of a cow hide and multiple bear carvings along the side of the steps. Nestled in the upstairs nook, there is a wooden carving of "Luther", the colorful mountain man that "watches" over the cabin. The second floor offers a second Master Bedroom with a king size bed. You can also enjoy views and sounds of the waterfalls from the second floor.

On the lower level, the first bedroom to the right has a king size bed and a closet that houses the washer and dryer. There is a second bedroom that offers a king size bed with access to a bathroom that offers a walk-in shower. You then walk into a large multipurpose room that offers a 55 television, Electric Fireplace, two arcade games as well as a Whiskey barrel pub table with seating for four, also has a futon for additional sleeping. There is also an area for those snacks and drinks during your favorite movie night. It offers a full-size refrigerator and cabinetry with countertop which offers a microwave and coffee maker for those morning snacks and coffee. The room leads directly to the lower-level deck which offers a hot tub with views of the waterfall and direct access to the creek. It is a great area to relax and enjoy the sights and sounds of cove creek.

Creekside provides amazing views of Cove Creek from the upper and lower decks of the cabin. Creekside is also a fisherman's dream, and you can get a fishing license only 2 miles away at Clabough's Market or view our area fishing information here. The back deck is so convenient that you can call your fisherman in for lunch without having to leave the cabin. Enjoy grilling lunch on the outdoor gas grill, and there is a picnic table and plenty of seating at the two outdoor bars to accommodate your family. The cabin offers a 4-person hot tub on to the lower deck that overlooks the waterfall.

Creekside Cabin provides three (3) large, flat parking areas that facilitate handicap vehicles and allows easy access to the cabin via wheelchairs. Creekside Lodge is in a log cabin only resort. The cabin is also approximately 4-5 miles from the Parkway in Pigeon Forge, which offers a multitude of activities for your family. $500.00 security deposit is charged at the time of final payment. The security deposit will be held until after check-out. This cabin is inspected before every stay for quality control. Fireside Chalets wants to provide a premium vacation experience for each stay.

Would you like to go fishing while you are in town or go swimming? Creekside Lodge has access to Honeysuckle Meadows seasonal outdoor swimming pool, deli, and year-round outdoor fishing access. The pool is located about 5.3 miles from the pool. You do not have to have a fishing license to fish at this private catch and release fishing area. This Honeysuckle Meadows outdoor recreation area is just a short drive from Creekside Lodge and features beautiful Wears Valley area Views of the surrounding Mountain Area. Reserve your Smoky Mountain Getaway Today for your Special Event, Vacation, or Family Vacation! This cabin is a great place to make family memories that will last a lifetime. Make Creekside Lodge a yearly family retreat. No Pets. Non-Smoking. Sleeps 10.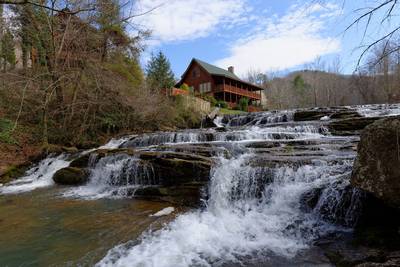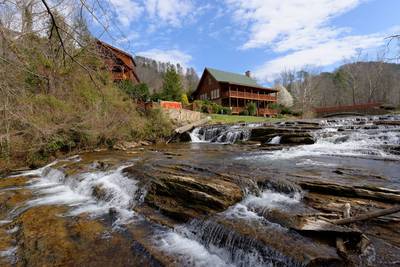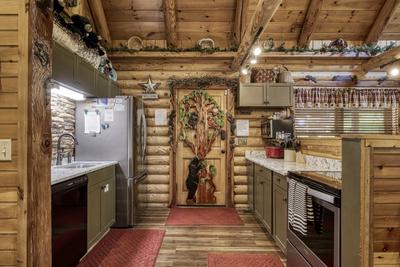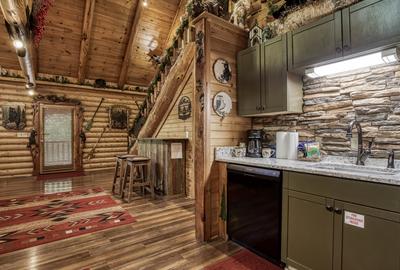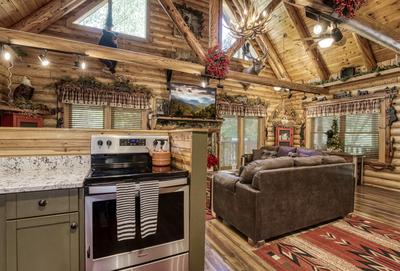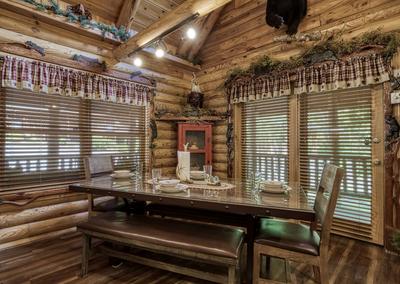 Description and Amenities
4 Bedrooms

4 Full Baths

Motorcycle Friendly

Extra Drink Kitchen area

Water Fall View

Ramp access into cabin

Arcade Game

River Access

Flat Screen Televisions (7)

Waterfront

Home Theater System

Hair Dryer

Telephone

Towels/Linens

Central Heat and Air

Iron/Ironing Board

Covered Outdoor Porch

Coffee Maker

Microwave

Dvd Player (2)

Swimming Pool Access

Internet Access

Gas Fireplace

Dishwasher

Washer/Dryer

Gas Grill

Hot Tub

Non Smoking

Entry Steps (1)

Additional Information: Honeysuckle Meadows Seasonal Swimming Pool Access and Year Round Stocked Fishing Pond Access

River View

King Bed(s)

Game Consoles: Lower Level Multipurpose Room - Cocktail style multi-cade arcade machine, Standup multi-cade arcade machine

Parking (4)

Driveway: Paved Flat

Distance from the Main Parkway (5)

Dining Area Seating (8)

Level(s) (3)

Sleeps up to 10