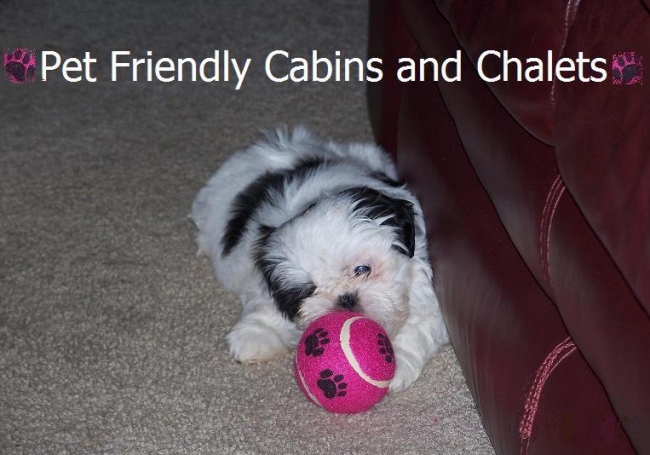 ---
If you are looking for a Pet-Friendly cabin in the smoky Mountains and want to brings Man's Best Friend then look no further than Fireside Chalets, LLC.
Some of our owners have decided to allow guests to take their furry family member to their lovely cabin in the mountains.
When making your reservation, if you are bringing your pet, make sure you register your pet with your reservation specialist at the time you reserve your cabin or chalet.
Please remember that all of our cabins are privately owned (it is up to the owner to allow a pet) and ONLY the cabins that are located on the "Pet-Friendly" pages will allow a pet. As you know, this is a privilege that is rarely allowed so please abide by the rules and regulations for pet occupancies.
There is a $75 NON-REFUNDABLE per pet charge that is required at check-in.
All pet-friendly cabins accept dogs only. There is a weight limit of 35 pounds. Some cabins and chalets will accept larger dogs. Let the office staff know if you are bringing a larger pet. Certain cabins and areas restrict against larger dogs. There is a $125 dollar non-refundable pet fee for a larger dog. (OVER 35 POUNDS)
Do not allow your dog to sleep in the bed or lay on the furniture. We do ask that the guest cleans up after the pet.
If the pet sheds excessively or there is extra cleaning required, there will be an extra charge to the guest.
No pets are allowed in whirlpools, bathtubs, and hot tubs.
Your dog is required to be in a carrier or kennel while you are away from the cabin.

All guests must be in compliance with the Tennessee Leash Law

All dogs must be kept on a leash while being walked or left outside.

Take in consideration your fellow neighbors who may be disturbed from your dog's barking. Keep in mind there is a Noise and Nuisance Ordinance Law. If we get a call or complaint, you may be asked to leave.

If the guest is found violating any of the pet terms and conditions, the guest will be charged additional fees.

Pet Owners take full responsibility for any damages caused by the pet.
Neither Fireside Chalets, LLC., nor the Individual Homeowners assume any responsibility for your pets.
Our Homeowners enjoy their cabin in the Great Smoky Mountains and deeply appreciate you respecting their wishes.
We would like you and your pet to enjoy your Smoky Mountain Getaway with Fireside Chalets.
CLICK HERE TO VIEW OUR PET-FRIENDLY CABINS AND CHALETS
REMEMBER - DOGS ONLY. WE DO NOT ALLOW CATS, ETC.