Cabins and Chalets with Swimming Pool Access
(Click the links below to see cabins and chalets with swimming pool access, listed by size)
Swimming Pools at Some Units Will Not Open Until June 1. Please Ask Your Reservation
Specialist for Pool Opening dates. Fireside Chalets has no control over opening/closing dates for
these swimming pool cabins and chalets.
---
One Bedroom Cabins and Chalets
---
One Bedroom + Loft Bedroom Cabins and Chalets
---
Two Bedroom Cabins and Chalets
---
Two Bedroom + Loft Bedroom Cabins and Chalets
---
Three Bedroom Cabins and Chalets
---
Three Bedroom +Loft Bedroom Cabins and Chalets
---
Four Bedroom Cabins and Chalets
---
Five Bedroom Cabins and Chalets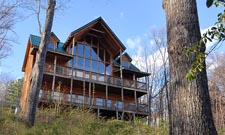 A Notch Above
Gnatty Branch 995
---
Six Bedroom Cabins and Chalets

Click Here to View Our Rate Calendar
Click Here To View Our Holiday / Peak Season Nightly Minimums
PLEASE NOTE : FIREPLACES ARE NOT IN OPERATION FROM APRIL 1 - OCTOBER 1.
GAS AND WOOD BURNING FIREPLACES WILL BE OPEN FROM OCTOBER 1 - APRIL 1. Firewood is not supplied
All Fireside Chalets' Cabins and Chalets are Equipped with
Central Air Conditioning and Heating
---
Need Driving Directions to Pigeon Forge ? Click Here
Click Here for a Map to Our Office
Copyright © Since 1999 Fireside Chalets, LLC - All Rights Reserved
VLS#: 00000064